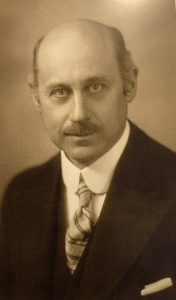 The founder, Rudolf Nydahl (1882-1973), had a strong interest in music from a young age. He studied for a period at the conservatory in Paris, but it would be a few years before he fully devoted himself to his musical interests.
After graduating from high school in 1901, Nydahl initially trained to become a naval officer before transferring to the coastal artillery, where he was promoted to the rank of captain. At this time, Rudolf Nydahl's mother ran a wine business in Stockholm (K.A. Nydahl & Co.), which he took over upon her death in 1916. However, when AB Vin & Spritcentralen (the Swedish alcohol retailing monopoly) was established in 1919, Rudolf Nydahl was forced to sell the wine business to the state. In exchange, he acquired several residential properties in Stockholm and founded the Stiftelsen Musikkulturens Främjande (Foundation for the Advancement of Music Culture) in 1920. From that point onward, he could fully dedicate himself to his passion.
A significant portion of the objects in the museum were acquired by Rudolf Nydahl during his travels on the European continent, particularly to cities like Paris and Berlin. During these trips, he developed a particularly strong interest in French music and culture, most notably composer Georges Bizet and the circle around him. French music and French musical instruments, therefore, hold a central place in the collections. Rudolf Nydahl was also a close friend of the sculptor Carl Milles, and some of his statues can be seen at the museum. Rudolf Nydahl's collecting was driven by a passionate love for music and culture. With the exception of the war years from 1939 to 1945, he continued his travels and collecting throughout his life.