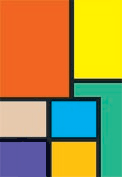 On Rudolf Nydahl's 85th birthday, June 23, 1967, the first permanent instrument exhibition was inaugurated on the upper floor of Torstenssonsgatan in Stockholm.
The museum in the basement of Riddargatan 37 was established in 1979, a few years after the passing of Rudolf Nydahl.
Opening Hours and Admission Fees:
Guided tours are conducted on Tuesdays and Thursdays at 11:00 AM and 12:00 PM. Group tours are available by appointment. You can contact us via email at smf[at]nydahlcoll.se to schedule a visit.
The cost of a guided tour is 100 Swedish kronor per person. After 4:00 PM and on weekends, the cost is 120 Swedish kronor per person.
The colorful "map" above on the left provides an approximate floor plan of the museum.