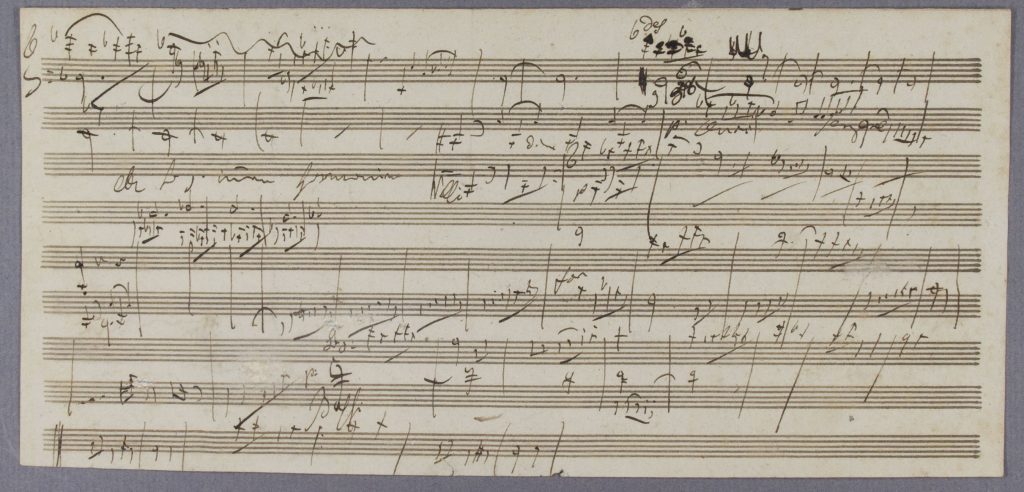 In Nydahl's collection, there are approximately 1,600 music manuscripts by European composers, with the majority dating from the 19th century. Most of these are autographs, but there are also quite a few transcriptions. Some of these transcriptions have named copyists, while others are of unknown origin.
Between the two World Wars, many individuals on the continent were in need of money and thus sold their treasures at auctions. When the extensive collection of the German collector Wilhelm Heyer's musical manuscripts was auctioned in 1927, Rudolf Nydahl acquired around 330 lots. This allowed him to acquire works by great masters such as Alessandro Scarlatti, Johann Sebastian Bach, Joseph Haydn, Luigi Cherubini (his composition textbook), Carl Maria von Weber, Franz Schubert, Gaetano Donizetti, Fromental Halévy, Felix Mendelssohn, Robert Schumann, Frédéric Chopin, and Franz Liszt, as well as numerous works by lesser-known composers.
However, the overwhelming majority of the music manuscripts are French.
Among the French composers in the collection are Adolphe Adam, Ambroise Thomas, Charles Gounod, Jacques Offenbach, César Franck, Camille Saint-Saëns, Léo Delibes, Georges Bizet, and Jules Massenet.
The catalog of music manuscripts in the collection was published by Bonnie and Erling Lomnäs in 1995 under the title "Catalogue of Music Manuscripts." It can be ordered here for the price of 200 SEK plus postage.